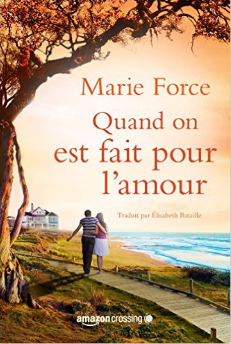 Quand on est fait pour l'amour
(L'ile de Gansett t.1)
Mac & Maddie
Avec plus de deux millions d'exemplaires vendus, la série de l'Île de Gansett est une série culte, après être restée dans les meilleures ventes du New York Times.
Les McCarthy de l'île de Gansett – livre 1
Maddie Chester est bien décidée à quitter son île natale de Gansett, un endroit qui ne lui a apporté que de mauvais souvenirs et de vilaines rumeurs. Mais alors qu'elle se rend à vélo à l'hôtel des McCarthy, où elle travaille comme femme de ménage, elle est renversée par Mac McCarthy, le fils chéri de la famille. Revenu sur l'île pour aider son père à vendre l'affaire familiale, il n'a nulle intention de s'attarder. Parce qu'il a accidentellement blessé Maddie, il s'installe chez elle pour la soigner et l'aider à s'occuper de son jeune fils. Il comprend alors très vite que son projet de visite éclair est menacé et que, peut-être, il est tout simplement fait pour l'amour.
Nothing in the world can take the place of persistence. Talent will not; nothing is more common than unsuccessful men with talent. Genius will not; unrewarded genius is almost a proverb. Education will not; the world is full of educated derelicts. Persistence and determination alone are omnipotent. 
~ Calvin Coolidge
© Marie Force/HTJB, Inc. Privacy Policy. 
Marie Force, Gansett Island, A Green Mountain Romance, Quantum Series and Fatal Series are registered trademarks with the United States Patent & Trademark Office.