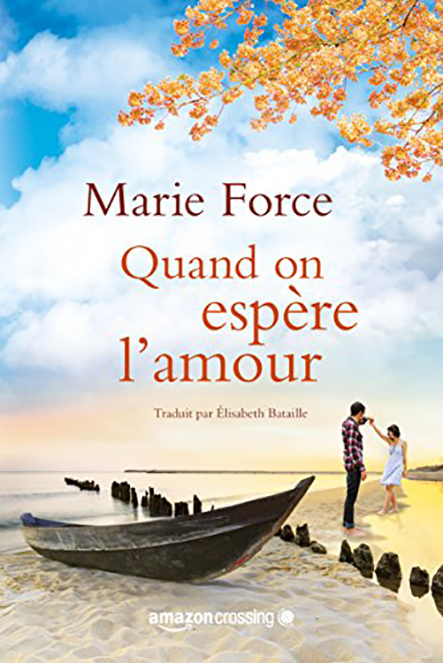 Quand on eepere l'amour
(L'ile de Gansett t.5)
Grace & Evan
Toute sa vie, Grace Ryan a été « la grosse ». Raillée et rejetée par ses camarades, elle décide, à l'approche de ses trente ans, de prendre des mesures radicales et se fait poser un anneau gastrique. Un an plus tard et 65 kilos en moins, elle se lance dans une aventure amoureuse avec Trey, l'ancien tombeur du lycée, qui l'emmène sur l'île de Gansett. Mais lorsque Grace refuse de faire l'amour avec lui, Trey l'abandonne sans un sou au beau milieu de la marina !
Ce même été, Evan McCarthy chante au Tiki Bar en attendant la sortie de son premier album, qui doit faire de lui une star. Lors d'un concert, le regard triste de Grace, perdue au milieu des vacanciers joyeux, attire son attention.
Quand elle lui raconte son histoire, il lui propose aussitôt de l'aide… avant de tomber sous son charme ! Mais, après tout ce qu'elle a subi, Grace n'a pas vraiment besoin d'un homme « qui ne veut pas s'engager »… Evan sera-t-il capable de changer pour gagner son cœur ?
Nothing in the world can take the place of persistence. Talent will not; nothing is more common than unsuccessful men with talent. Genius will not; unrewarded genius is almost a proverb. Education will not; the world is full of educated derelicts. Persistence and determination alone are omnipotent. 
~ Calvin Coolidge
© Marie Force/HTJB, Inc. Privacy Policy. 
Marie Force, Gansett Island, A Green Mountain Romance, Quantum Series and Fatal Series are registered trademarks with the United States Patent & Trademark Office.