About the Books
Welcome to Vermont and the Green Mountain and Butler Series, featuring the Abbott family, proprietors of the Green Mountain Country Store. This series was inspired by a story I saw on the NBC News about the real-life Vermont Country Store and the Orton family that owns it. I was fascinated by the story of a modern-day family running an old-fashioned country store in the mountains of Vermont. After a memorable weekend in Vermont in which I visited both of the stores locations—and managed to spend too much money at both stops—I was hooked on the idea. I went home and wrote the first three chapters of All You Need Is Love, which was released in February 2014. Since then, the Abbott/Stillman/Coleman clan has stolen the hearts of readers, and Fred the Moose has earned himself a cult following.

The indie-published Butler, Vermont Series is a continuation of the Green Mountain Series with all the things you loved best about that series—Fred the Moose, the boisterous Abbott family, the beautiful Vermont mountain landscape and the sexy romances that set your heart to racing. Catch up with the series by reading the Green Mountain Series and then come along on the next phase of the story with the all new Butler, Vermont Series!
A GREEN MOUNTAIN ROMANCE is a registered trademark with the United States Patent & Trademark Office.
Books in Order
The Green Mountain and Butler, Vermont Series books are each stand-alone stories, but you would enjoy them more if you read them in order. Click on the link for each book to access ebook, print and audio purchase links as well as excerpts and other information about the books.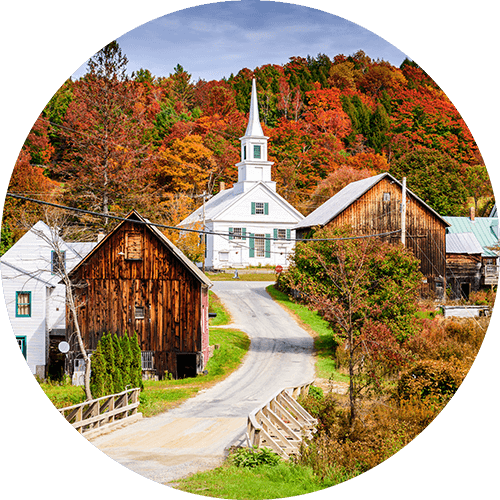 Visit Vermont
It all started with the NBC Nightly News when Marie watched a segment on the Vermont Country Store (VCS) and the Orton family who owns it and was immediately intrigued by the notion of a family running an old-fashioned country store. Marie visited and shopped at both store locations in Weston and Rockingham and the research for the Green Mountain Series set in Vermont had begun.
"Suffice to say it was certainly no sacrifice to spend time in such a stunningly beautiful place," Marie says. "I absolutely love the scenery, the mountains, the people, the quaint small towns and the quirky slices of life that make it such a special place."
Visit Vermont to see some of the scenes and local color that inspired the Green Mountain Series. Who knows, you may also see Fred the Moose? If not, you can buy him here.
A Bit About Vermont
Vermont is well-known for its cheese, maple syrup, fall foliage, mountains, festivals, outdoor activities, artisans and small town life. Natural assets include Lake Champlain, which forms half of Vermont's western border and is shared with the state of New York, and the Green Mountains used by Marie for the Abbott family's country store name. For more information about visiting Vermont, as well as a map of the state, please go to http://www.visit-vermont.com/.
How To Get to Vermont
By Air: Vermont has an international airport in Burlington and is serviced by several major airlines. The nearest airport to both Vermont Country Store locations in Weston and Rockingham is Hartness State Airport in Springfield, VT. Springfield is about 30 miles away from Weston and less than 15 miles from Rockingham. The stores can also be accessed by airports in Albany, NY, Boston, MA, and Manchester, NH.  Check airlines and the distance from each airport to the locations you want to visit for the best option. For more information about airports in Vermont please visit this website. 
By Car: Be prepared to drive and enjoy the scenery in Vermont. Rent a car and explore the small towns as you go from one destination to the next. Keep in mind that you may have limited cell phone coverage on many of the state's country roads, so write down any directions or phone numbers you may need before getting in the car.
Where to Stay in Vermont
Here's a list of hotels and B&Bs recommended by the VCS near their two stores. For other accommodations available throughout Vermont, please go to the Visit Vermont website.
Lodging in Manchester (located about 10 miles from Weston and has cell service)
The Equinox: A luxury spa and golf resort located close to shopping and dining in Manchester.
Hampton Inn & Suites: This hotel offers affordable accommodations with free hot breakfast included.
The Reluctant Panther Inn and Restaurant: Twenty luxurious rooms and suites in three distinct locations, the Main House, Mary Porter House and Carriage House, all featuring elegant design with antique furnishings, fireplaces, marble baths and original, museum quality artwork.
Lodging in Weston (be advised there is NO cell service in Weston)
Apple Knoll Inn (Weston, VT): Located within walking distance of the VCS, this 1830s farm house has four rooms with private baths, an outdoor pool, parlor with piano and a Rumford fireplace.
The Inn at Weston (Weston, VT): The inn has 13 guest rooms (9 with fireplaces) and offers luxurious accommodations, fine dining and lots of outdoor fun.
The Colonial House (Weston, VT): The Colonial House is a unique country inn and motel offering a full breakfast along with its rooms. Dinner is available on Friday and Saturday nights year-round and midweek during the summer, fall, and winter holiday periods.
Brandmeyer's Mountainside Lodge (Weston, VT): Ten guest rooms with private baths, cable TV, refrigerators, wall safes and hair dryers. A complimentary hot breakfast is served daily.
Lodging In and Around Rockingham
Check local listings for recommended B&Bs and hotels. Available changes frequently depending on the season.
Best Time of Year to Visit Vermont
Saying the temperature varies in Vermont is like saying there's a bit of romance in the Green Mountain Series books. They can range between a high of 105 degrees F to a record low of -50 F; the annual mean temperature is 43 F. Don't underestimate the variability of the weather between elevations. In addition, rain, fog, sudden drops in temperature, snow and thunderstorms can come at any time.
Summer, while cool and pleasant, can also be hot and humid. Vermont winters are cold and winter conditions can last from November to May, with the maximum snow depth usually occurring in March. Many people visiting the area in the winter see this as a good excuse to snuggle with someone special in front of a fire.

Things to do in Vermont
Snow shoes and the symphony, arts and aroma therapy, there's plenty to do for everyone in Vermont. Of course, one of Marie's fave things to do continues to be shopping at the Vermont Country Store. She never misses the chance every time she's in the Green Mountain state.
Vermont seemingly has festivals for every occasion—the Vermont Maple Festival, Festival on the Green, The Vermont Dairy Festival, the Apple Festival, the Marlboro Music Festival, and the Vermont Brewers Festival.
And there's art. For instance, the Weston Playhouse Theatre Company is a non-profit regional theater that's been a part of the local scene for more than seven decades. It is Vermont's oldest professional theater. Read about its rich history here.
Other art venues include the Vermont Symphony Orchestra and the Sage City Symphony, and the Brattleboro-based Vermont Theatre Company, which presents an annual summer Shakespeare festival. Brattleboro also hosts the summertime Strolling of the Heifers parade which celebrates Vermont's unique dairy culture. The annual Green Mountain Film Festival is held in Montpelier.
In the Northeast Kingdom, the Bread and Puppet Theatre holds weekly shows in Glover in a natural outdoor amphitheater.
Daily, seasonal ferries take residents and tourists to and from the islands of Lake Champlain and the Champlain Islands. To find information about these ferries, as well as other ferry service between VT and NY, please visit this website.
There are so many other activities in Vermont such as visiting a sugaring house to see how the state's most famous export, maple syrup, is made. You can also tour the famous Ben and Jerry's Factory and enjoy yummy samples. And don't forget about the cheese makers. Find out about all this and more at Visit Vermont's website.
Purchase Green Mountain Merchandise
Nothing in the world can take the place of persistence. Talent will not; nothing is more common than unsuccessful men with talent. Genius will not; unrewarded genius is almost a proverb. Education will not; the world is full of educated derelicts. Persistence and determination alone are omnipotent. 
~ Calvin Coolidge
© Marie Force/HTJB, Inc. Privacy Policy. 
Marie Force, Gansett Island, Quantum Series and Fatal Series are registered trademarks with the United States Patent & Trademark Office.