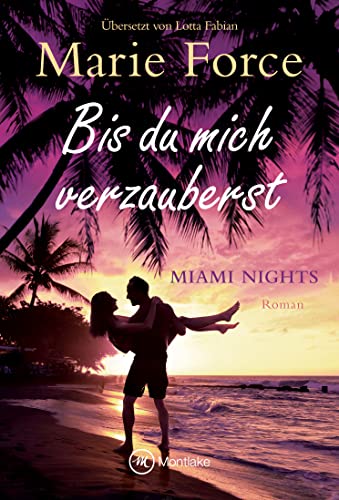 Bis du mich verzauberst
(Miami Nights 4)
Eine berührende Geschichte um eine wunderbare Familie und die ganz große Liebe von #1-BILD-Bestsellerautorin Marie Force.
Der attraktive Nico ist der Bad Boy der Familie Giordino. Bei keiner Frau hält er es lange aus, Verantwortung ist für ihn ein Fremdwort. Bis er die zauberhafte Sofia Diaz und ihren süßen Sohn Mateo kennenlernt. Auch wenn er es selbst kaum glauben kann: Es ist Liebe auf den ersten Blick und er würde alles für Sofia tun.
Sofia hat viel durchgemacht, hinter ihr liegt eine schwierige Trennung. Obwohl sie sich zu Nico hingezogen fühlt, scheint es keine gute Idee zu sein, sich mit ihm einzulassen – sogar seine Schwestern warnen sie davor. Aber dann spitzt sich die Lage mit ihrem gewalttätigen Ex dramatisch zu. Nun muss Nico beweisen, dass er ein Mann ist, auf den man sich verlassen kann …
Marie Force/HTJB, Inc. is a participant in the Amazon Services LLC Associates Program, an affiliate advertising program designed to provide a means for sites to earn advertising fees by advertising and linking to amazon.com.
Nothing in the world can take the place of persistence. Talent will not; nothing is more common than unsuccessful men with talent. Genius will not; unrewarded genius is almost a proverb. Education will not; the world is full of educated derelicts. Persistence and determination alone are omnipotent. 
~ Calvin Coolidge
© Marie Force/HTJB, Inc. Privacy Policy. 
Marie Force, Gansett Island, A First Family Novel, A Wild Widows Novel, A Miami Nights Novel, A Green Mountain Romance, Quantum Series, Fatal Series  and Butler, VT are registered trademarks with the United States Patent & Trademark Office.