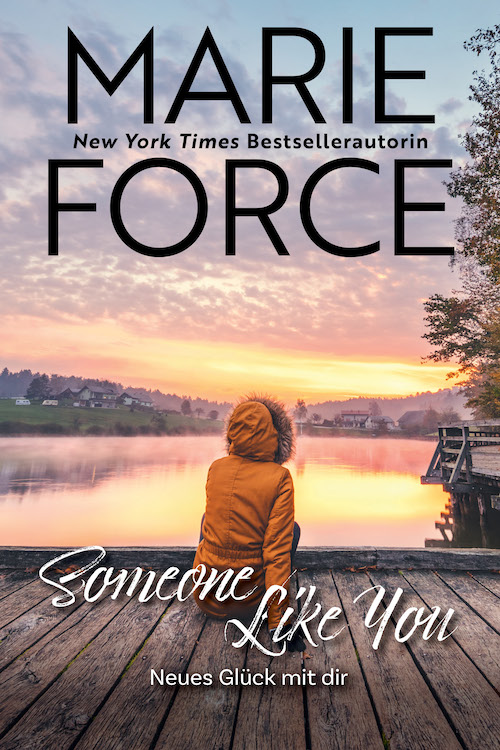 Someone like you – Neues Glück mit dir
(Wild Widows, Band 1)
Die ergreifende Geschichte der jungen Witwe Roni, bekannt aus der beliebten Fatal-Reihe
Nach dem plötzlichen Tod meines geliebten Mannes stehe ich vor den Scherben meines Glücks. Zwar tun meine Freunde und meine Familie alles, um mir durch die schwere Zeit zu helfen, aber das ändert nichts daran, dass es letztlich an mir ist, die Kraft zum Weitermachen zu finden – vor allem als sich völlig unerwartet eine weitere große Veränderung in meinem Leben ankündigt.
Inmitten von all dem Aufruhr sind die Wilden Witwen ein Geschenk des Himmels. Doch um Teil dieser Selbsthilfegruppe zu werden, muss man eine Bedingung akzeptieren: Man muss offen sein für eine neue Liebe. Auch wenn ich nicht den Rest meines Lebens allein verbringen möchte, ist das etwas, was ich mir im Moment nur schwer vorstellen kann. Doch manchmal hält das Schicksal ja noch eine Überraschung für einen bereit …
Marie Force/HTJB, Inc. is a participant in the Amazon Services LLC Associates Program, an affiliate advertising program designed to provide a means for sites to earn advertising fees by advertising and linking to amazon.com.
Nothing in the world can take the place of persistence. Talent will not; nothing is more common than unsuccessful men with talent. Genius will not; unrewarded genius is almost a proverb. Education will not; the world is full of educated derelicts. Persistence and determination alone are omnipotent. 
~ Calvin Coolidge
© Marie Force/HTJB, Inc. Privacy Policy. 
Marie Force, Gansett Island, A First Family Novel, A Miami Nights Novel, A Green Mountain Romance, Quantum Series, Fatal Series  and Butler, VT are registered trademarks with the United States Patent & Trademark Office.