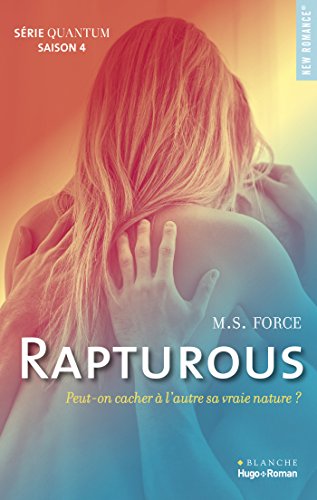 Quantum Saison 4 

Rapturous
"Ms. Force a écrit un mélange fantastique de douceur et de sensualité mélangé à des éléments BDSM très sexy." Johanna Beck – USA Today
Peut-on cacher à l'autre sa vraie nature ? 
Quatrième volet de la série addictive Quantum, Rapturus raconte la passion dévorante de Hayden Roth, le réalisateur et l'ami de Flynn Godfrey et Addison son assistante sur laquelle il a toujours fantasmé sans jamais lui montrer. Tout comme Addie aime Hayden en secret depuis qu'elle travaille pour lui. 
Le livre nous fait vivre toute la tension sensuelle et sexuelle qui s'exerce entre eux deux comme 
un puissant aimant. Et lorsqu'à la soirée de remise des Oscars, Hayden se laisse aller à embrasser fougueusement son assistante, montrant ainsi à tous la force de son désir. 
Mais Hayden a un secret, c'est un dominant sexuel et il ne veut pas entraîner Addie sur cette voie. Mais l'amour qu'elle porte à Hayden va la conduire à explorer ses voies inconnues d'elle pour lui prouver la force de son amour.
Nothing in the world can take the place of persistence. Talent will not; nothing is more common than unsuccessful men with talent. Genius will not; unrewarded genius is almost a proverb. Education will not; the world is full of educated derelicts. Persistence and determination alone are omnipotent. 
~ Calvin Coolidge
© Marie Force/HTJB, Inc. Privacy Policy. 
Marie Force, Gansett Island, Quantum Series and Fatal Series are registered trademarks with the United States Patent & Trademark Office.