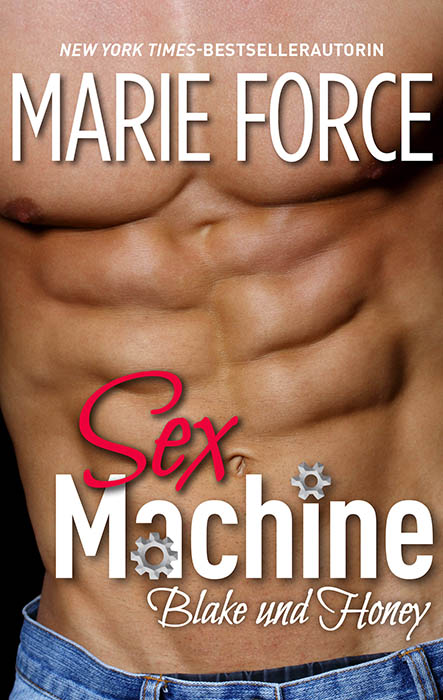 Sex Machine
Blake und Honey
Nach einem tragischen Verlust hat Blake Dempsey beschlossen, nie wieder zu lieben. Für Frauen gibt es daher klare Regeln: Es ist nur für eine Nacht, und es gibt keine Gefühle, sondern nur Sex. Darin ist er allerdings richtig gut.
Holly Carmichael kennt die Regeln, aber sie will ohnehin nur das Eine von ihm ‒ sie will endlich wissen, was die ganze Aufregung um Sex eigentlich soll. Blake ist gerne bereit, der verführerischen Holly bei ihrem »Problem« zu helfen, allerdings nur, wenn sie weiß, worauf sie sich einlässt.
Doch schon in der ersten erotischen Nacht gerät alles außer Kontrolle, und Gefühle, mit denen keiner der beiden gerechnet hatte, führen zu chaotischen Verstrickungen. Aber ist Blakes Herz genug geheilt, um es Holly anzuvertrauen?
Ein sexy Liebesroman für Erwachsene. Wem es schnell mal zu heiß hergeht, sollte von diesem Buch lieber die Finger lassen!
Marie Force/HTJB, Inc. is a participant in the Amazon Services LLC Associates Program, an affiliate advertising program designed to provide a means for sites to earn advertising fees by advertising and linking to amazon.com.
Nothing in the world can take the place of persistence. Talent will not; nothing is more common than unsuccessful men with talent. Genius will not; unrewarded genius is almost a proverb. Education will not; the world is full of educated derelicts. Persistence and determination alone are omnipotent. 
~ Calvin Coolidge
© Marie Force/HTJB, Inc. Privacy Policy. 
Marie Force, Gansett Island, A First Family Novel, A Wild Widows Novel, A Miami Nights Novel, A Green Mountain Romance, Quantum Series, Fatal Series  and Butler, VT are registered trademarks with the United States Patent & Trademark Office.