Get to Know the Gilded Series!
About the Books
Take a step back in time to the early 20th Century with Marie's Gilded Series, historical romances set in 1902-1903.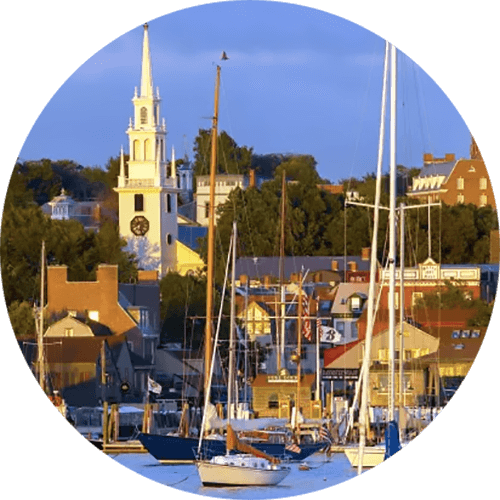 Learn about The Gilded Age and Visit Newport
Newport, RI, the setting for book 2 in the Gilded Series, is a stunning seaside city with impressively gilded mansions, great restaurants, a cobblestone downtown and a huge sailing community. No wonder so many of Marie's books are inspired by Newport. In addition to the Gilded Series, Treading Water, Georgia on My Mind, The Fall and Love at First Flight are either set in Newport or include visits to the city. Tourists can sightsee and participate in many events while also allowing the scenes from Marie's stories to come to life, again. Lear more about the Gilded Age by visiting the Newport Historical Society. 

Things to do in Newport
Aside from visiting the spots that inspired Marie's books, there are a ton of fun and informative activities in Newport.
A trip to Newport wouldn't be complete without a stroll on the Cliff Walk and a tour of at least one of the gilded-age mansions, playground to the most wealthy families in the country, that will help you visualize an era of aristocracy and wealth. To learn more about the mansions, please visit http://www.newportmansions.org/. Marie's favorite is The Breakers.
While visiting historic sites, you may want to stop by St. Mary's, the church where John F. Kennedy married Jacqueline Bouvier on Sept. 12, 1953.
Take a stroll to the city's waterfront, where you'll find a variety of restaurants, shops and other interesting sights. Watch the boats go by—or better yet, take a charter tour and see Newport from the water on Narragansett Bay.
When all that touring and walking and sightseeing causes your stomach to growl (or maybe you're a tad thirsty), there are plenty of restaurants and pubs that serve a wide variety of fare. You'll find clam chowder on the menu in just about every restaurant you encounter, along with lobster rolls and stuffed clams or "stuffies."
There are also wineries, art, comedy and concerts—even polo and tennis on grass courts at the International Tennis Hall of Fame! Check out the calendar of events.
For more information about things to do in Newport, please visit Discover Newport. They have a downtown office located next to the Marriott where you can pick up information and schedule tours.
Nothing in the world can take the place of persistence. Talent will not; nothing is more common than unsuccessful men with talent. Genius will not; unrewarded genius is almost a proverb. Education will not; the world is full of educated derelicts. Persistence and determination alone are omnipotent. 
~ Calvin Coolidge
© Marie Force/HTJB, Inc. Privacy Policy. 
Marie Force, Gansett Island, Quantum Series and Fatal Series are registered trademarks with the United States Patent & Trademark Office.