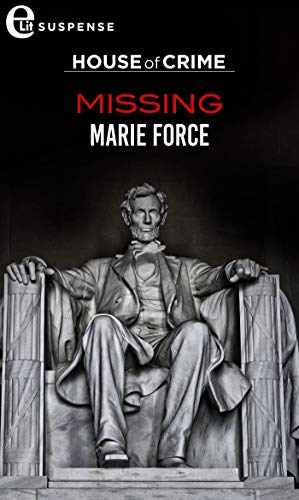 Missing
(House of Crime 5)
Un nuovo caso sconvolge la capitale: il brutale assassinio della moglie di Derek Kavanaugh, uno dei consiglieri personali del Presidente della Casa Bianca, e il rapimento della loro bambina, Maeve, di un anno. Il tenente della polizia di Washington, Sam Holland, a capo delle indagini, è costretta a collaborare fianco a fianco con l'Unità Vittime Speciali dell'FBI e nello specifico con Avery Hill, una vera spina nel fianco per Sam e per la sua salute mentale. A darle ulteriori distrazioni si aggiungono nuove rivelazioni riguardo al cold case in cui è coinvolto suo padre. Le indagini si rivelano molto delicate e surriscaldano tutto il mondo della politica, mettendo in pericolo anche la carriera dello stesso Nick Cappuano, marito di Sam. Riuscirà il tenente a tirare le fila di tutto, scovare l'assassino, salvare la bambina e tenere in piedi il delicato castello di bugie che altrimenti potrebbe rivelarsi fatale per parecchie persone?
Marie Force/HTJB, Inc. is a participant in the Amazon Services LLC Associates Program, an affiliate advertising program designed to provide a means for sites to earn advertising fees by advertising and linking to amazon.com.
Nothing in the world can take the place of persistence. Talent will not; nothing is more common than unsuccessful men with talent. Genius will not; unrewarded genius is almost a proverb. Education will not; the world is full of educated derelicts. Persistence and determination alone are omnipotent. 
~ Calvin Coolidge
© Marie Force/HTJB, Inc. Privacy Policy. 
Marie Force, Gansett Island, A First Family Novel, A Wild Widows Novel, A Miami Nights Novel, A Green Mountain Romance, Quantum Series, Fatal Series  and Butler, VT are registered trademarks with the United States Patent & Trademark Office.