Ravenous, Quantum Book 5, Out NOW!
She wants a baby. He wants her. Simple enough, right?
Ellie Godfrey has kissed her share of frogs. So many, in fact, that she fears she won't recognize her prince if and when he finally comes along. Tired of waiting for THE ONE, Ellie decides to have a baby on her own before it's too late.
When Jasper Autry hears about Ellie's plan, what else can he do but step in and offer to "contribute" to her project. Does that make him an opportunist? Whatever. He wants the perpetually out-of-reach Ellie Godfrey, and when he sees his chance, he takes it. That she's the sister of his business partner and close friend Flynn gives him pause, but it doesn't stop him from having what he wants.
As Jasper and Ellie embark upon their secret "project," he makes it clear that for as long as they're together, he's in charge—in the bedroom anyway. After the hottest sex of her life, Ellie realizes she's made a deal with the devil himself.
Warning: If you hate foul-mouthed heroes who like it a little rough and dirty, this might not be the book for you…Contains hot and sexy BDSM scenes among other things that might not appeal to the faint of heart. Enter at your own risk and enjoy!
Get Ravenous now!
Kindle US | iBooks | Nook | Kobo | Google | Kindle CA | Kindle UK | Kindle AU
Order a signed print copy from Marie's store or get Ravenous in print at Amazon, Barnes & Noble, Books-A-Million and Chapters Indigo.
Audio
Amazon | iTunes | Audible US | Audible UK | Audible AU
Join the Ravenous Reader Group on Facebook.
Quantum Series On Sale This Week Only!
One week only–a chance to read the first four books in my Quantum Series for JUST $2.99(USD/$3.99 CA/AU). Get VIRTUOUS, VALOROUS, VICTORIOUS and RAPTUROUS as well as the first FIVE chapters of RAVENOUS, out on 8.23. This sale is here today and gone in ONE short week. If you've been putting off reading this series, now is the time to dive in and BINGE read Flynn and Natalie's trilogy as well as Hayden and Addie's story!
Find out what everyone is talking about and get the first four Quantum books ON SALE right now in this BRAND NEW Boxed Set!
Kindle US | iBooks | Nook | Kobo | Google | Kindle CA | Kindle UK | Kindle AU
---
Upcoming Releases
Sex Machine, Out on Sept. 26
Marie's first standalone title in five years!
He's good for one thing and one thing only—and she wants it bad.
Honey Carmichael has never had a decent orgasm, and she's out to change that with the one man in town known for his superior skill between the sheets.
Blake Dempsey is happy to help Honey with her "problem" as long as she knows he's only interested in sex. His heart was broken when his high school girlfriend was killed in the car he was driving, and he has nothing to offer other than more orgasms than Honey can handle.
Which is just fine with her—until fantastic orgasms aren't enough anymore for either of them and unexpected feelings turn hot sex into messy entanglement—and that most definitely wasn't in the plans.
But you know what they say about plans…
A sexy, dirty stand-alone romance intended for MATURE audiences. If you can't take the heat in Blake's bedroom, stay out or you might get burned. You've been warned!
Preorder your copy of Sex Machine now! Out on Sept. 26.
For Kindle readers, click here to be notified as soon as Sex Machine is available.
iBooks | Nook | Kobo | Google
The print edition will be available EXCLUSIVELY from Marie's store. Preorder now to get a signed copy in time for release week.
Audio links coming soon!
---
Sam and Nick Return in Fatal Identity, out Now
Fatal Identity is a New York Times and USA Today bestseller!
"Marie Force is an awesome storyteller and her Fatal series is one that will just suck you right in. It doesn't matter if you start at the first book or the latest, each has a unique story that you can enjoy."—5-star TOP PICK from Night Owl Reviews
Every family has its secrets… As the first anniversary of her marriage to Vice President Nick Cappuano approaches, Lieutenant Sam Holland is dreaming of Bora Bora—sun, sand and a desperately needed break from the DC grind. But real life has a way of intervening, and Sam soon finds herself taking on one of the most perplexing cases of her career. Government worker Josh Hamilton begs Sam to investigate his shocking claim that his parents stole him from another family thirty years ago. More complicated still, his "father" is none other than the FBI director. When a member of Josh's family is brutally murdered, Sam begins to question how deep this cover-up goes. Is it possible the revered director was part of a baby-napping ring and that others involved are also targets? With a killer intent on deadly revenge and her team still reeling from a devastating loss, Sam's plate is full—and when Nick and their son, Scotty, take ill, is her dream of a tropical anniversary celebration in peril too?
Get Fatal Identity now!
Kindle US | iBooks | Nook | Kobo | Google | Kindle CA | Kindle UK | Kindle AU
Get Fatal Identity in print at Amazon, B&N, Books A Million, Chapters Indigo, Booktopia, Harlequin and Indie Bound.
Get the audiobook at Amazon | Audible | Audible UK | Audible AU | iTunes.
---
Available Now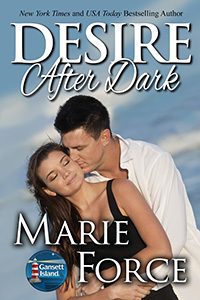 Return to Gansett Island for Slim and Erin's sexy, funny, emotionally charged story in New York Times bestselling Desire After Dark, out on May 23.
An early 4.5-star review of Desire After Dark from Romance Junkies said: "Force fills her stories with family, love and laughter, sadness and secrets uncovered. She vividly describes the scenery, as well as some burning-up-the-sheets moments that add so much to the story."
Get Desire After Dark here:
Kindle US | iBooks | Nook | Kobo | Google | Kindle CA | Kindle UK | Kindle AU
Get Desire After Dark in print at Amazon, Barnes & Noble or order a signed copy from Marie's store.
Get the audiobook at Amazon | Audible | Audible UK | Audible AU | iTunes.
Nothing in the world can take the place of persistence. Talent will not; nothing is more common than unsuccessful men with talent. Genius will not; unrewarded genius is almost a proverb. Education will not; the world is full of educated derelicts. Persistence and determination alone are omnipotent.

~ Calvin Coolidge

---