Preorder Every Little Thing
Book 1in the NEW Butler, Vermont Series—Out on Feb. 14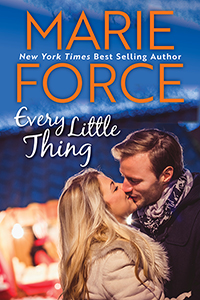 Grayson Coleman has just moved home to Butler, Vermont after spending years working for a high-powered law firm in Boston. He's looking for a simpler, less stressful existence in the sleepy little mountain town where he grew up with his siblings and Abbott cousins. Once the holidays are over, he plans to hang out a shingle and open a new general law practice. After helping to raise his seven younger siblings, the last thing on Grayson's mind is a family of his own.
Emma Mulvaney is enjoying a break from her reality as a busy single mother in New York City while she and her adorable daughter, Simone, spend the holidays in Vermont with Emma's sister, Lucy, and Lucy's future in-laws, the Abbotts. After meeting Abbott cousin Grayson Coleman and talking to him for hours, Emma is nervous and excited to have dinner alone with him after sharing her deepest, most personal secrets with him.
Will that first night be the start of something new for the jaded lawyer and the selfless single mom or will a holiday week flirtation turn into something much bigger than either of them ever expected?
Come back to Butler, Vermont for more of the charming Abbott family, their matchmaking father and grandfather and of course, Fred the Moose.
The indie-published Butler, Vermont Series is a continuation of Marie's Green Mountain Series with all the things you loved best about that series—Fred the Moose, the boisterous Abbott family, the beautiful Vermont mountain landscape and the sexy romances that set your heart to racing. Catch up with the series by checking out the Green Mountain Series and then come along on the next phase of the story with the all new Butler, Vermont Series!
Preorder Every Little Thing:
Kindle US | iBooks | Nook | Kobo | Google | Kindle UK | Kindle AU | Kindle CA
Order a signed copy of Every Little Thing from Marie's store | Amazon
More print and audio links coming soon.
New York City readers! Come see me at the Staten Island Barnes & Noble on Sunday, Feb. 12, at 2 pm! I'll be signing copies of Every Little Thing, two days before release day, as well as Fatal, Green Mountain, Quantum and Sex Machine!
Mark your calendars and come to Staten Island:
2245 Richmond Avenue
Staten Island, NY 10314
Go to my Amazon.com Store!
Light After Dark is a New York Times Bestseller
Click here to read the first two chapters!
"Light After Dark is a welcome return to the island. We get real life family issues as well as believable characters and the must have – Happily Ever After." —Lisa at Comfy Chair Reviews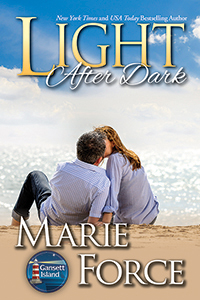 Mallory Vaughn is at a crossroads in her life. A year after learning that Big Mac McCarthy is her father, she's spending more and more time on Gansett Island, surrounded by the large and boisterous McCarthy family. When she's laid off from her longtime job, Mallory goes to visit her family on Gansett and tries to figure out the next chapter. An unexpected job offer will have her packing up her home in Providence to move to the island for at least the summer, if not longer. She decides to make this the "Summer of Mallory," full of new adventures, new people and new opportunities. Will a new love also be part of the Summer of Mallory? Anything is possible on Gansett Island, especially true love.
Take the ferry back to Gansett to catch up with the McCarthy family and their friends. Be on hand as Laura and Owen welcome their twins and the family comes back together for another summer of love and adventure on Gansett Island.
Get Light After Dark here!
Kindle US | Nook | iBooks | Google Play | Kobo | Kindle CA | Kindle UK | Kindle AU
Print: Get a signed copy from Marie's store | Amazon | Barnes & Noble | Books-A Million | Indiebound | Powell's
Audio: Amazon | Audible US | Audible UK | Audible AU | iTunes
Once you've finished reading, join the Light After Dark Reader Group to chat about Mallory's story. Spoilers welcome in this group!
Upcoming Events
---
A Gansett Island Announcement....
This info is included at the end of Light After Dark, but I wanted the Gansett Island fan page to hear it first…
I'll be launching a new "Gansett Island Episodes" series in 2017, featuring shorter stories about past characters who readers love and want more of. Mixed in with these episodes will be at least one full-length book a year. So we'll have plenty more from our favorite island, with new stories for past characters as well as all-new stories, too. I'm looking forward to this new adventure and hope you'll take the ferry to Gansett for the new episodes! I expect that Riley McCarthy will be the next character featured in a full-length book, but I reserve the right to change my mind about that!
So what will the episodes cover? Stories that I always wish I had more time to give in the new books, such as Seamus and Caro adopting the two little boys, Adam and Abby's quest to become parents, Victoria's relationship with Seamus's cousin Shannon, more about Shane and Katie, and perhaps some of the other Lawrys, Frank and Betsy, Kevin and Chelsea, Jared and Lizzie, etc. I still have SO MUCH left to say about ALL the past characters, and the episodes will give me a chance to keep your favorite characters front and center while continuing to write full-length books for new characters, too. I'm really in love with this idea and knowing the Gansett Island series will continue for a long time to come. I hope you guys are excited about the episodes, too! 🙂
Coming Soon...
Here are the covers for upcoming releases in the all new Butler, Vermont and Quantum Series. Every Little Thing will pick up right where Ain't She Sweet left off and feature Grayson Coleman and Emma Mulvaney. Delirious will feature Kristian and Aileen. Dates for Every Little Thing and Delirious aren't available just yet.
Join the mailing list to be notified as soon as release information is available!
Recent Releases
Click the covers for links to your retailer of choice.
Nothing in the world can take the place of persistence. Talent will not; nothing is more common than unsuccessful men with talent. Genius will not; unrewarded genius is almost a proverb. Education will not; the world is full of educated derelicts. Persistence and determination alone are omnipotent.

~ Calvin Coolidge

---