Every Little Thing
Book 1in the NEW Butler, Vermont Series—Out Now!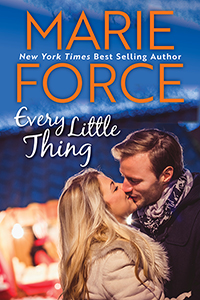 Grayson Coleman has just moved home to Butler, Vermont after spending years working for a high-powered law firm in Boston. He's looking for a simpler, less stressful existence in the sleepy little mountain town where he grew up with his siblings and Abbott cousins. Once the holidays are over, he plans to hang out a shingle and open a new general law practice. After helping to raise his seven younger siblings, the last thing on Grayson's mind is a family of his own.
Emma Mulvaney is enjoying a break from her reality as a busy single mother in New York City while she and her adorable daughter, Simone, spend the holidays in Vermont with Emma's sister, Lucy, and Lucy's future in-laws, the Abbotts. After meeting Abbott cousin Grayson Coleman and talking to him for hours, Emma is nervous and excited to have dinner alone with him after sharing her deepest, most personal secrets with him.
Will that first night be the start of something new for the jaded lawyer and the selfless single mom or will a holiday week flirtation turn into something much bigger than either of them ever expected?
Come back to Butler, Vermont for more of the charming Abbott family, their matchmaking father and grandfather and of course, Fred the Moose.
The indie-published Butler, Vermont Series is a continuation of Marie's Green Mountain Series with all the things you loved best about that series—Fred the Moose, the boisterous Abbott family, the beautiful Vermont mountain landscape and the sexy romances that set your heart to racing. Catch up with the series by checking out the Green Mountain Series and then come along on the next phase of the story with the all new Butler, Vermont Series!
"Force has become one of my favorite authors. I devour her books when they come out and always look forward to reading more. Another five star read!"—Recommended read from Romance Junkie
Get Every Little Thing:
Kindle US | iBooks | Nook | Kobo | Google | Kindle UK | Kindle AU | Kindle CA
Order a signed copy of Every Little Thing from Marie's store | Amazon | Barnes & Noble | Books A Million | Chapters Indigo
Audio: Amazon | Audible US | Audible UK | Audible AU | iTunes
Join the Every Little Thing Reader Group on Facebook. Spoilers welcome!
Go to my Amazon.com Store!
---
Gansett Island Series Paperback Print Deal with Kensington Publishing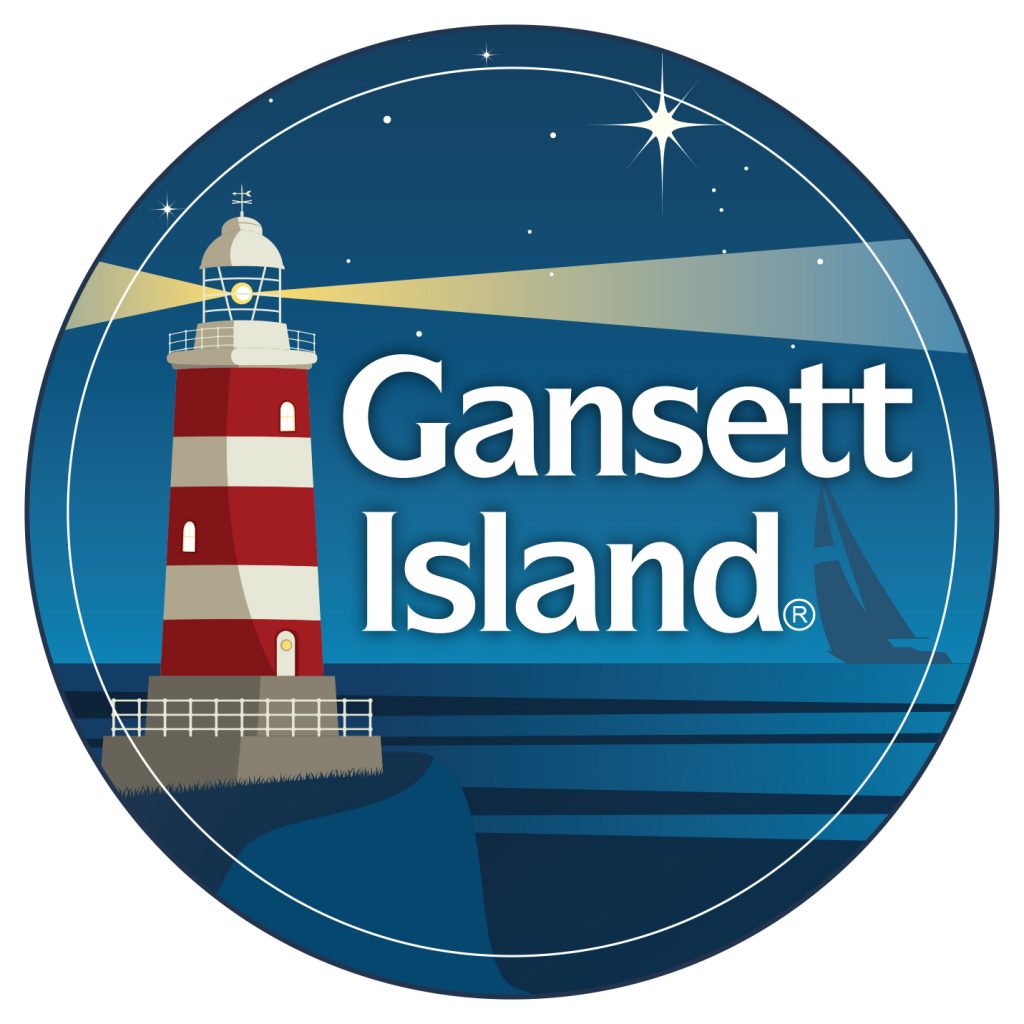 Publisher's Weekly made the official announcement that Marie has sold the first six Gansett Island books in mass market paperback to Kensington Publishing for release in stores in 2018. Marie is really excited to bring Gansett to bookstores and paperback readers beginning next year! This will be the first time the Gansett Series has been in mass distribution paperback format. Read the full announcement from Kensington Publishing.
From Publisher's Weekly:
Kensington Publishing CEO Steve Zacharius bought mass market rights to the first six books in romance author Marie Force's Gansett Island series. All six books were previously self-published by the author in digital format. According to Kensington, the series is set on a fictional version of Block Island, in Rhode Island, and tells of the "lives and loves of the McCarthy family and their friends." The publisher adds that Force's books have sold more than 5.5 million units worldwide. The mass market paperbacks are set to begin to be released in summer 2018.
Gansett Island Episode 1: Victoria & Shannon
Available for Preorder, Out on March 21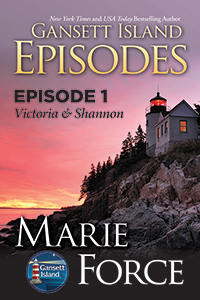 Gansett Island midwife Victoria Stevens loves taking care of people, in her job and in her personal life, especially when it comes to her boyfriend of one year, sexy Irishman Shannon O'Grady. Fueled by combustible chemistry, her relationship with Shannon has been H-O-T from the first night they met. But she's begun to wonder whether theirs is destined to be a short-term fling or possibly the love of a lifetime. When she goes looking for answers about his past, she learns something she was better off not knowing and isn't sure what to do with her newfound information. What will happen when Shannon finds out she's been asking questions about him, and will they be able to overcome the obstacles standing between them and happily ever after? Find out in this first Gansett Island Episode, which also includes the arrival of some long-awaited island babies!
About the Gansett Island Episodes…
From Marie: My fictional island has become such a huge part of my life—and yours—over these last six years, and I've created so many characters who speak to me between books and during the writing of new ones. I can't possibly give them all a new story in every book, but I still have so much to say about them. With that in mind, I'll be launching a new "Gansett Island Episodes" series in 2017, featuring shorter stories about past characters who readers love and want more of. Mixed in with these episodes will be at least one full-length book a year. So we'll have plenty more from our favorite island, with new stories for past characters as well as all-new stories, too. I'm looking forward to this new adventure and hope you'll take the ferry to Gansett for the new episodes!
Preorder Season 1, Episode 1 Now!
Kindle US | Nook | iBooks | Google | Kobo | Kindle CA | Kindle UK | Kindle AU
Get a signed copy in Marie's Store or order at Amazon.
Sam and Nick Return in Fatal Threat on July 25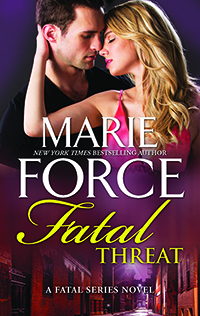 With a killer on the loose, it's the worst time to be on lockdown…
It's just another day at the office for Washington Metro Police lieutenant Sam Holland when a body surfaces off the shores of the Anacostia River. But before Sam can sink her teeth into the new case, Secret Service agents seize her from the crime scene. A threat has been made against her family, but nobody will tell her anything—including the whereabouts of her husband, Vice President Nick Cappuano.
This isn't the first time the couple's lives have been at risk, but when a bombshell from Sam's past returns to haunt her, she can't help but wonder if there's a connection. With a ruthless killer out for vengeance, and Nick struggling to maintain his reputation after secrets from his own past are revealed, Sam struggles to tie the threat to a murder that can't possibly be a coincidence. And she has to get it done before her husband's career is irrevocably damaged…
Preorder Fatal Threat Now!
Kindle US | Nook | iBooks | Google | Kobo | Kindle CA | Kindle UK | Kindle AU coming soon
Get Fatal Threat in print at Amazon and Barnes & Noble.
Audiobook coming soon!
Upcoming Events
---
Coming Soon...
Here are the covers for upcoming releases in the Gansett, Fatal and Quantum Series. Gansett Island Episodes: Season 1, Episode 1 is a short story featuring Victoria & Shannon. Delirious will feature Kristian and Aileen. The release date for Delirious isn't available just yet.
Join the mailing list to be notified as soon as release information is available!
Recent Releases
Click the covers for links to your retailer of choice.
Nothing in the world can take the place of persistence. Talent will not; nothing is more common than unsuccessful men with talent. Genius will not; unrewarded genius is almost a proverb. Education will not; the world is full of educated derelicts. Persistence and determination alone are omnipotent.

~ Calvin Coolidge

---