Light After Dark, Out on Dec. 13
Click here to read the first two chapters!
Mallory Vaughn is at a crossroads in her life. A year after learning that Big Mac McCarthy is her father, she's spending more and more time on Gansett Island, surrounded by the large and boisterous McCarthy family. When she's laid off from her longtime job, Mallory goes to visit her family on Gansett and tries to figure out the next chapter. An unexpected job offer will have her packing up her home in Providence to move to the island for at least the summer, if not longer. She decides to make this the "Summer of Mallory," full of new adventures, new people and new opportunities. Will a new love also be part of the Summer of Mallory? Anything is possible on Gansett Island, especially true love.
Take the ferry back to Gansett to catch up with the McCarthy family and their friends. Be on hand as Laura and Owen welcome their twins and the family comes back together for another summer of love and adventure on Gansett Island.
Pre-Order Light After Dark here!
Kindle US | Nook | iBooks | Google Play | Kobo | Kindle CA | Kindle UK | Kindle AU
Get a signed copy from Marie's store or order from Amazon. More print and audio links coming soon!
Make a difference while you read ALL I WANT FOR CHRISTMAS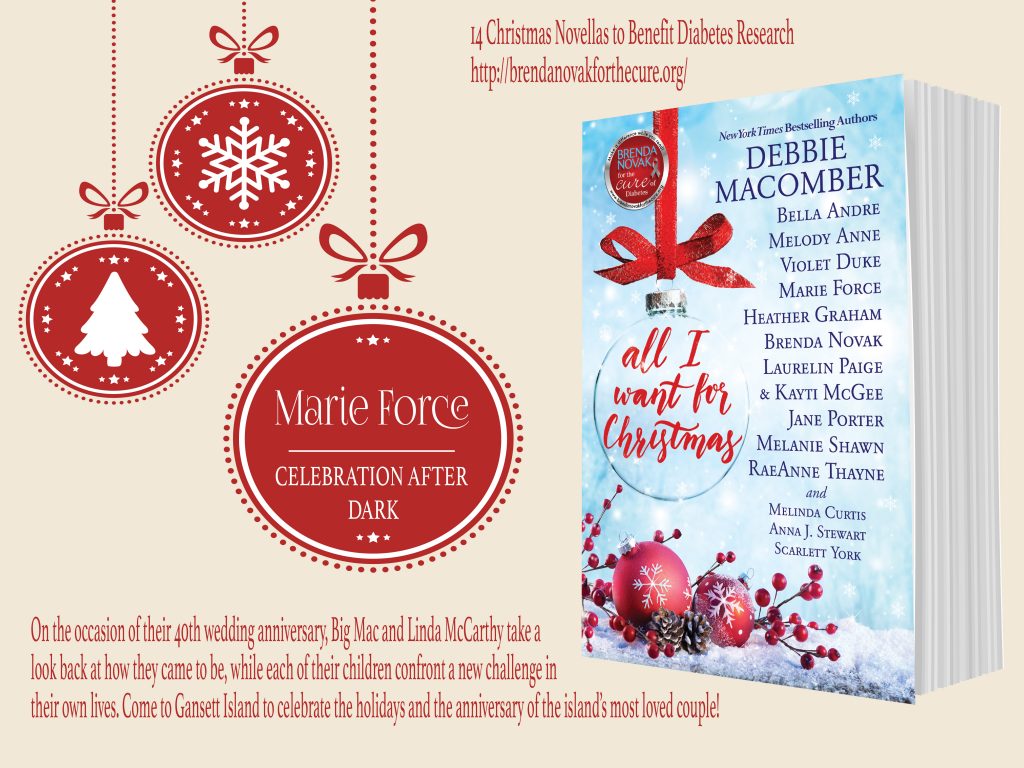 14 Romantic Christmas Stories from some of today's most popular authors:
Debbie Macomber, Bella Andre, Violet Duke, Marie Force, Heather Graham, Brenda Novak, Laurelin Paige & Kayti McGee, Jane Porter, Melanie Shawn, RaeAnne Thayne, Melinda Curtis, Anna J. Stewart and Scarlett York
Only available this Christmas season — then it will be gone for good — so grab yours while you can!
All proceeds go to Boston University to help Dr. Ed Damiano (who also has a son with Type 1) finish engineering the second generation artificial pancreas. Why is his work important? Because the new and improved artificial pancreas will go far toward helping insulin-dependent diabetics remain healthy until that elusive biological cure can be found. So, please, purchase this boxed set today and encourage your friends and family to do the same. You'll get many hours of enjoyable reading in exchange for a small donation that will help a lot of people.
Coming Soon...
Here are the covers for upcoming releases in the Gansett Island, the all new Butler, Vermont and Quantum Series. Light After Dark will feature Mallory Vaughn. Every Little Thing will pick up right where Ain't She Sweet left off and feature Grayson Coleman and Emma Mulvaney. Delirious will feature Kristian and Aileen. Light After Dark will release on Dec. 13. Dates for Every Little Thing and Delirious aren't available just yet.
Join the mailing list to be notified as soon as release information is available!
Recent Releases
Click the covers for links to your retailer of choice.
Nothing in the world can take the place of persistence. Talent will not; nothing is more common than unsuccessful men with talent. Genius will not; unrewarded genius is almost a proverb. Education will not; the world is full of educated derelicts. Persistence and determination alone are omnipotent.

~ Calvin Coolidge

---