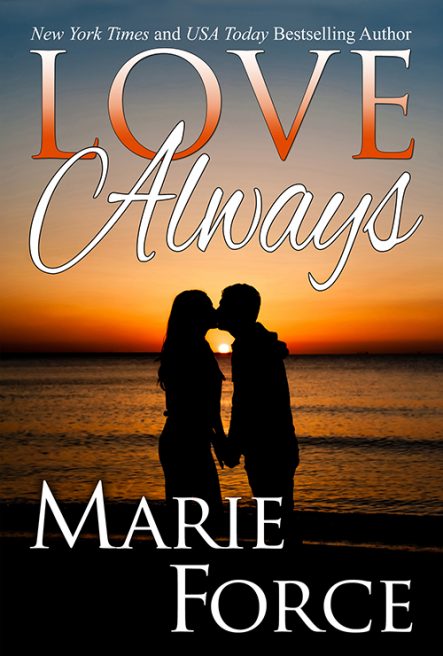 Love Always
First in the Series Boxed Set
Hungry for a great series? Here's a collection of first-book appetizers to devour.
Read the books that started four of New York Times bestselling author Marie Force's most popular series, all in one volume. Get the beginnings of the Gansett Island, Fatal, Quantum and Treading Water Series and see what 6.5 million readers already know—Marie's books are seriously addicting. From a remote island off the New England coast, to the intrigue of Washington, D.C. to Hollywood to New York City and then back to Newport, Rhode Island, Marie takes readers on an amazing journey in each of her unique series. Like a TV show you can't get enough of, her series will grab you on page one and not let you go until the last book is finished.  
Gansett Island Series Book 1: Maid for Love
Fatal Series Prequel: One Night With You
Quantum Series Book 1: Virtuous
Treading Water Series Book 1: Treading Water
And a look at Green Mountain Series Book 1, All You Need Is Love 
Nothing in the world can take the place of persistence. Talent will not; nothing is more common than unsuccessful men with talent. Genius will not; unrewarded genius is almost a proverb. Education will not; the world is full of educated derelicts. Persistence and determination alone are omnipotent. 
~ Calvin Coolidge
© Marie Force/HTJB, Inc. Privacy Policy. 
Marie Force, Gansett Island, Quantum Series and Fatal Series are registered trademarks with the United States Patent & Trademark Office.