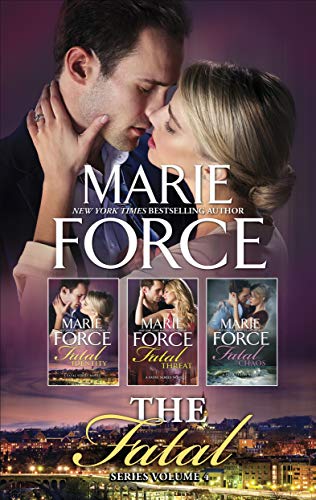 Fatal Series Boxed Set Volume 4
with Books 10-12
By Marie Force
Enjoy books 10-12 in The Fatal Series from New York Times bestselling author Marie Force, now in one box set.
Fatal Identity
Government worker Josh Hamilton begs Lieutenant Sam Holland to investigate his shocking claim that his parents stole him from another family thirty years ago. More complicated still, his "father" is none other than the FBI director. When a member of Josh's family is brutally murdered, Sam begins to question how deep this cover-up goes. Is it possible the revered director was part of a baby-napping ring and that others involved are also targets?
Fatal Threat
It's just another day at the office for Washington Metro Police lieutenant Sam Holland when a body surfaces off the shores of the Anacostia River. But before Sam can sink her teeth into the new case, Secret Service agents seize her from the crime scene. A threat has been made against her family, but nobody will tell her anything—including the whereabouts of her husband, Vice President Nick Cappuano. With a ruthless killer out for vengeance, Sam works to tie the threat to a murder that can't possibly be a coincidence. And she has to get it done before her husband's career is irrevocably damaged…
Fatal Chaos
Escaping DC during the dog days of summer is one of the smartest moves Washington metro police lieutenant Samantha Holland ever made, but no sooner are they back home than a fatal drive-by shooting sets the city on edge. As more deaths follow, Sam and her team play beat the clock to stop the ruthless killers. With Nick facing his greatest challenge—one that could drastically change all their lives and even end Sam's career—will the mounting pressure deepen or damage their bond?
Exciting New Spinoff Series!
First Family Series
You loved them as the second couple. Wait until you see what happens next…
Wild Widows Series
You met Roni Connolly in Fatal Reckoning when she was widowed when a random bullet found her new husband on a DC street. You've watched as she and Sam have forged a sweet friendship. So you'll want to be there when Roni takes the first steps into a new life with the help of the Wild Widows, a local group that has one requirement for new members—they must be willing to take a second chance on love. Read Roni's story in SOMEONE LIKE YOU, out on February 15, 2022. 
Nothing in the world can take the place of persistence. Talent will not; nothing is more common than unsuccessful men with talent. Genius will not; unrewarded genius is almost a proverb. Education will not; the world is full of educated derelicts. Persistence and determination alone are omnipotent. 
~ Calvin Coolidge
© Marie Force/HTJB, Inc. Privacy Policy. 
Marie Force, Gansett Island, Quantum Series and Fatal Series are registered trademarks with the United States Patent & Trademark Office.