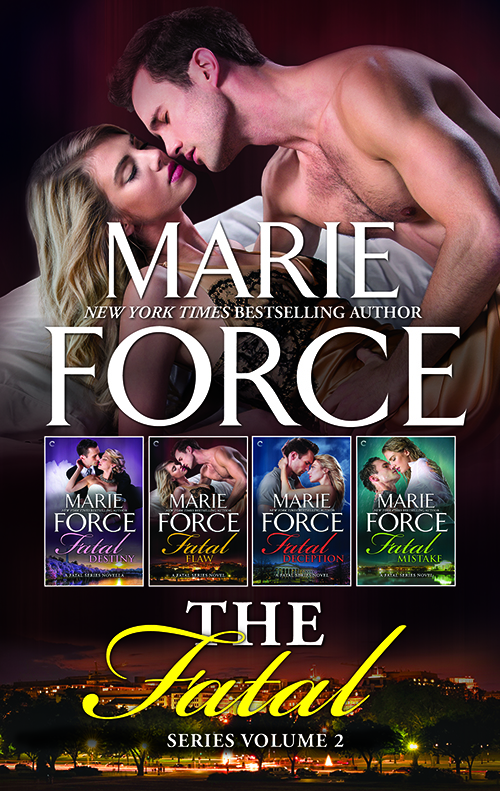 Fatal Series Boxed Set
with Books 3.5-6
By Marie Force
Sam and Nick's exciting journey continues with books 4-6 in New York Times bestselling author Marie Force's Fatal Series. Includes bonus novella Fatal Destiny!
Fatal Destiny With the week of their wedding finally upon them, Washington, D.C., Police Lieutenant Sam Holland and her fiancé, Senator Nick Cappuano, are at odds. In the aftermath of a tragic loss, they struggle to reconnect as the big day draws near, but their work keeps pulling them apart. When a new clue into a cold case surfaces, Nick asks Sam not to take any foolish chances before the wedding. Sam agrees, but she can't let it go entirely and winds up trapped in an explosive situation. Then an unwelcome visitor from her past threatens her future happiness… With trouble at every turn, will Sam survive long enough to walk down the aisle?
Fatal Flaw Back from their honeymoon, Senator Nick Cappuano and DC Police Lieutenant Sam Holland are ready for some normalcy after the whirlwind of their wedding, but someone has other plans for them. When Sam discovers wedding cards containing thinly veiled death threats, she's not sure if she or Nick is the target. Already on edge, Sam and her team start investigating a series of baffling murders. With no obvious connection between the victims, Sam soon suspects that she may be the ultimate prize in the killer's clever game…
Fatal Deception The wife of the White House deputy chief of staff has been beaten to death, and their one-year-old daughter is missing. D.C. Police Lieutenant Sam Holland is in charge of the murder investigation, but she's forced to collaborate with Special Victims Unit detectives as well as thorn-in-her-side FBI Special Agent Avery Hill. Then, a cold case of her father's resurrects old hurts—a distraction Sam cannot afford. As Sam's investigation heats up, so does Nick's political career—and the heat carries over to their bedroom. Will Sam put the pieces together in time to catch a killer and find the baby?
Fatal Mistake D.C. is recovering from angry riots after one player's mistake blew the D.C. Federals' chance at the World Series, and Lt. Sam Holland is determined to unravel the twisted web of motives behind the star center fielder's death. Was it a disgruntled fan, a spurned lover or a furious teammate? While Sam digs through clues, her husband, U.S. Senator Nick Cappuano, fights for his political life in the final days of his reelection campaign as financial irregularities threaten his future. It's a distraction Nick can ill afford, with Sam in the midst of another high-profile murder investigation and both of them trying to help their adopted son, Scotty, cope with the murder of a ball player he admired. Determined to bring the killer to justice, Sam must root out the truth before another mistake proves fatal.
Exciting New Spinoff Series!
First Family Series
You loved them as the second couple. Wait until you see what happens next…
Wild Widows Series
You met Roni Connolly in Fatal Reckoning when she was widowed when a random bullet found her new husband on a DC street. You've watched as she and Sam have forged a sweet friendship. So you'll want to be there when Roni takes the first steps into a new life with the help of the Wild Widows, a local group that has one requirement for new members—they must be willing to take a second chance on love. Read Roni's story in SOMEONE LIKE YOU, out on February 15, 2022. 
Nothing in the world can take the place of persistence. Talent will not; nothing is more common than unsuccessful men with talent. Genius will not; unrewarded genius is almost a proverb. Education will not; the world is full of educated derelicts. Persistence and determination alone are omnipotent. 
~ Calvin Coolidge
© Marie Force/HTJB, Inc. Privacy Policy. 
Marie Force, Gansett Island, Quantum Series and Fatal Series are registered trademarks with the United States Patent & Trademark Office.