Marie is offering more workshops in 2017 and early 2018, including a new one! Click below for more information and to register.

Self-Pub 101, Nov. 13-18, 2017: Once you embark on a career as an independent author, you are no longer just a writer. You are now officially a publisher and business-owner! With that comes all the responsibilities of a publishing company, including editing, formatting, cover art design, distribution decisions, pricing and promotion. New York Times bestselling author Marie Force will review the ultimate to-do list for your self-publishing business. Registration fee: $49

 

NEW Marketing & Publicity for Authors, Jan. 15-20, 2018: You've written the books, now what? New York Times bestselling author Marie Force will discuss some of the basics of marketing your books to expose them to readers. This workshop will include an introductory look at Facebook ads, Amazon Marketing ads and BookBub ads as well as other promotion and marketing strategies used by authors to grow their readership. 
---
Delirious is a USA Today Bestsller
With the sixth release in the Quantum Series, Delirious hit the USA Today bestsellers list at no. 63. 
"DELIRIOUS is a sexy, edgy and heartbreaking story line of one man's struggle between his public image and the truth about his past; and one woman's battle to convince the man with whom she is falling in love, is worth everything and more. The premise is encouraging and entertaining; the characters are energetic, inspiring and intelligent; the romance is sensual, passionate and provocative. DELIRIOUS is an erotic, wicked and tender story of romance and love." —The Reading Cafe
---
Live with Marie & Dan YouTube Launch
Marie and her husband dan have filmed the first episode of a "live" show for YouTube that they are calling Live with Marie & Dan that will air occasionally. The first episode is available on Marie's YouTube channel and includes stories from their travel and Dan reading an excerpt from Marie's recent release, Delirious. Subscribe to the channel to be notified when new episodes are posted. 
---
"Verliebt auf Gansett Island" is a Bestseller in Germany!
The German translation of Meant for Love, Book 10 in the Gansett Island Series, is a bestseller in Germany. Jenny and Alex's story hit no. 3 on the Bild-Bestseller powered by Amazon list.
---
Fatal Threat is a Bestseller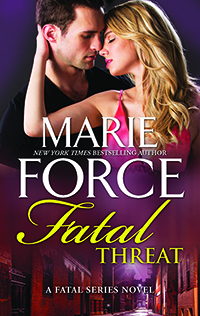 Fatal Threat, book 11 in the Fatal Series published by HQN, is a bestseller and hit the New York Times list at no. 15 and the USA Today list at no. 14. 
"Force's 11th Fatal romantic thriller continues her trend of writing likable, relatable characters who are entirely capable of handling the inevitably dire situations that occur in their high-risk jobs." —Publisher's Weekly
With a killer on the loose, it's the worst time to be on lockdown… 
It's just another day at the office for Washington Metro Police lieutenant Sam Holland when a body surfaces off the shores of the Anacostia River. But before Sam can sink her teeth into the new case, Secret Service agents seize her from the crime scene. A threat has been made against her family, but nobody will tell her anything—including the whereabouts of her husband, Vice President Nick Cappuano. This isn't the first time the couple's lives have been at risk, but when a bombshell from Sam's past returns to haunt her, she can't help but wonder if there's a connection. With a ruthless killer out for vengeance, and Nick struggling to maintain his reputation after secrets from his own past are revealed, Sam struggles to tie the threat to a murder that can't possibly be a coincidence. And she has to get it done before her husband's career is irrevocably damaged…
---
New Historical Romance Series Coming in 2019 from Marie
Publishers Weekly announced Marie's deal with Kensington to publish her first historical romance series coming in 2019. Marie recently signed a mass-market paperback deal with Kensington to publisher books from her Gansett Island Series. 
"…bestselling romance author Marie Force closed a two-book North American mass market paperback rights agreement with Martin Biro for her first historical romance series. Force, who Kensington said has sold more than six million books worldwide, will launch the Edwardian-era series with Duchess by Deception in February 2019. Kensington said Duchess follows a duke who has "a deadline to marry" and "disguises himself to win the heart of a woman who disdains the aristocracy."Force did not use an agent in the deal." —from Publishers Weekly
---
Book Signing at Vermont Country Store
Vermont Country Stores hosted a book signing of Every Little Thing at the Weston and Rockingham locations. Thank you to the staff at both stores who welcomed Marie and her readers and thanks to the readers for coming out over Memorial Day Weekend!
---
Sex Machine and Sex God Hit USA Today Bestseller List
In the same week, two of Marie's releases set in Marfa, TX hit the USA Today bestseller list. Sex Machine, released in September of 2016 when it hit the USA Today list for the first, hit the list for a second time at no. 92. Sex God, released on May 15, hit the list at no. 86. 
---
New Monthly Newsletter Subscriber Giveaway
On the first of every month, Marie will choose one winner from her list of email subscribers to receive an awesome care package built around the winner's favorite book or series. If you are receiving Marie's newlsetters, you're already entered. If you aren't subscribed, click here to be added and for the chance to WIN BIG.
---
Marie Will Host Event with Readers on Long Island
If you are in the area of Woodbury, NY, on Friday, May 12 and would like to meet Marie for drinks that evening, please email at author@marieforce.com with Long Island in the subject line. She will be speaking at an event there that day and would love to catch up with readers while she's in town!
---
Gansett Island Episodes: Episode 1, Victoria & Shannon is a Bestseller!
Marie's most recent release from the Gansett Island Series, Episode 1: Victoria & Shannon hit the USA Today bestseller list at no. 22 and the Wall Street Journal bestseller list at no. 8. 
---
Two German Releases Hit Bestseller List
Marie has hit the bestseller list twice in one week in Germany with translated release of Zärtlichkeit auf Gansett Island, book 9 from the Gansett Island Series, and Schenk mir deine Träume, book 4 in the Green Mountain Series. 
---
Gansett Island Episode 1: Victoria & Shannon Available for Preorder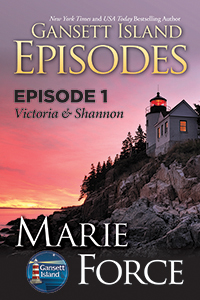 In a newsletter to readers, Marie answered questions about the upcoming Gansett Island book, a novella that will feature island midwife Victoria and her boyfriend Shannon. Episode 1 releases on March 21. Click here for more information and preorder. 
Book Description:
Gansett Island midwife Victoria Stevens loves taking care of people, in her job and in her personal life, especially when it comes to her boyfriend of one year, sexy Irishman Shannon O'Grady. Fueled by combustible chemistry, her relationship with Shannon has been H-O-T from the start. But she's begun to wonder whether theirs is destined to be a short-term fling or possibly the love of a lifetime. When she goes looking for answers about his past, she learns something she was better off not knowing and isn't sure what to do with her newfound information. What will happen when Shannon finds out she's been asking questions about him, and will they be able to overcome the obstacles standing between them and happily ever after? Find out in this first Gansett Island Episode, which also includes the arrival of some long-awaited island babies!
Here are a few other questions and answers about the Episodes:
Q: Will you still write full-length Gansett Island books?
A: Yes! Absolutely. My plan is to next write Episode 2, featuring Kevin and Chelsea. I will use that Episode to tell more of their story AND get to know Kevin's sons, Riley and Finn, a little better so I can then write full-length books for each of them.
Q: What other characters are you considering for Episodes?
A: I'd like to do something with Dan and Kara, who have never been showcased in their own book. I'd love to have Seamus take Caro and the boys to Ireland to see where he's from and to meet his extended family. I'd like to do more about Adam and Abby and their quest to become parents. And that's just a few of the ideas I've had so far. So you can see I have lots of stories I'd still like to tell within the Gansett world. Feel free to respond to this message and tell me what else you'd like to see in a future Episode!
Q: How long is Episode 1?
A: It's 32,000 words, which translates to about 115 pages in book format. I promise you a fully formed, emotionally satisfying story in every Episode.
Q: Do I have to read the series in order? In other words, does Episode 1 follow Light After Dark in the Gansett timeline?
Yes, it does. Early on in the planning for the Episodes, I realized that I would need to incorporate them into the series timeline so they weren't just "floating" out there on their own, separate from the larger story on Gansett. So the series list will incorporate the Episodes in the order in which they appear.
---
Every Little Thing is a USA Today Bestseller!
Book 1 in the Butler, Vermont Series, Every Little Thing, released in ebook, print and audio on Feb. 14 and is a USA Today bestseller, hitting the list at no. 34. This new series is a continuation of the Green Mountain Series and picks up right where Ain't She Sweet left off. 
---
Every Little Thing Out Today!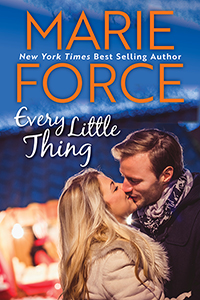 Book 1 in the Butler, Vermont Series, Every Little Thing, released in ebook, print and audio today. This new series is a continuation of the Green Mountain Series and picks up right where Ain't She Sweet left off. 
"Force has become one of my favorite authors. I devour her books when they come out and always look forward to reading more.  Another five star read!"—Recommended read from Romance Junkie
Click here to read Marie's release day newsletter including details about the release week contest, ebook sales as well as a discount code for 15% off signed books and merchandise in Marie's online store. 
---
Big Winter Sale!
Marie has several books on sale for a limited time: Virtuous for free, Longing for Love 99 cents and Fatal Affair for 99 cents.Maid for Love and One Night With You, both series starters, are available for free so now is a great time to start the Quantum and Fatal Series. Marie is also offering a 15 percent coupon to her online store with the discount code Valentine17. In a recent newsletter, Marie said (click here to read the full newsletter): 
If the doldrums of winter are getting you down or you need an escape from every day life, I've got just the thing with the following books ON SALE for a limited time! If you've been putting off starting the Quantum or Fatal Series, now would be the perfect time to find out why so many readers love these New York Times bestselling series! Quantum is full of movie stars and Hollywood intrigue while Fatal will take you on the ride of your life with a gusty Washington, DC police detective and the man she loves. Longing for Love is one of the most beloved installments in my bestselling Gansett Island series, featuring Tiffany Sturgill and Blaine Taylor's hot, sexy love story. Snap out of the winter blues and let these books, now on sale, take you away from it all!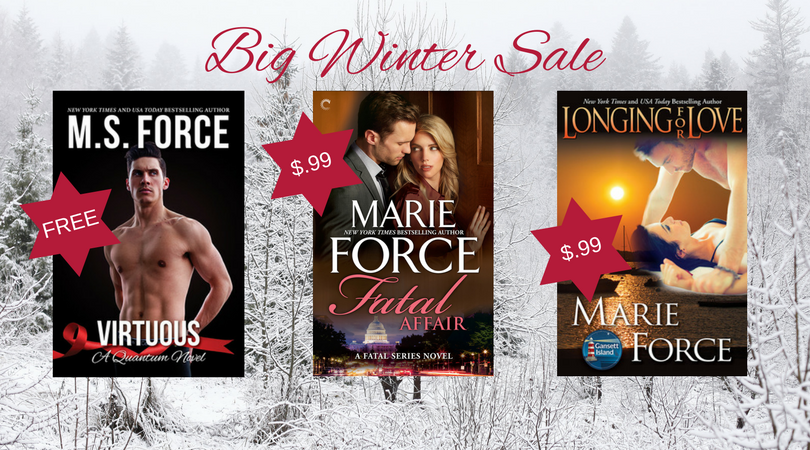 ---
Gansett Island Series Paperback Print Deal with Kensington Publishing
Publisher's Weekly made the official announcement that Marie has sold the first six Gansett Island books in mass market paperback to Kensington Publishing for release in stores in 2018. Marie is really excited to bring Gansett to bookstores and paperback readers beginning next year! This will be the first time the Gansett Series has been in mass distribution paperback format. Read the full announcement from Kensington Publishing. 
From Publisher's Weekly: 
Kensington Publishing CEO Steve Zacharius bought mass market rights to the first six books in romance author Marie Force's Gansett Island series. All six books were previously self-published by the author in digital format. According to Kensington, the series is set on a fictional version of Block Island, in Rhode Island, and tells of the "lives and loves of the McCarthy family and their friends." The publisher adds that Force's books have sold more than 5.5 million units worldwide. The mass market paperbacks are set to begin to be released in summer 2018.
---
Jan. 30 Newsletter: THREE Giveaways & Other VERY Big News!
Marie announced information about giveaways supporting the release of Every Little Thing. Book 1 in the new Butler, Vermont Series will be available in ebook, print and audio on Feb. 14. Prizes in three contests include advance reader copies of Every Little Thing, a Michael Kors purse with matching wallet, signed copies of all the books in the Green Mountain Series as well as signed copies of Every Little Thing. Click here for more details about these contests.
Marie also announced the sale of the first six Gansett Island books in mass market paperback to Kensington Publishing for release in stores in 2018! Read the full announcement from Kensington Publishing.
---
Light After Dark is a Bestseller!
Light After Dark has brought Marie's books further up the New York Times bestsellers list than she's ever been before — number two on the e-book list for January, 2017.
Readers return to Gansett Island in Light After Dark, where Mallory only a year ago found out Big Mac was her father. Life circumstances bring her back to the island for the "Summer of Mallory," where anything is possible, especially love!
Light After Dark is the 16th book, including a novella, in the Gansett Island series. Many books in the series have been on the New York Times and USA Today bestsellers lists.
---
Sex Machine is a Bestseller!
Marie's first standalone release in five years, Sex Machine, is a New York Times bestseller hitting no. 8 on the ebook list and no. 19 on the combined list. It also his the USA Today bestseller list at no. 38. Set in Marfa, TX, Sex Machine introduces readers to Honey Carmichael and Blake Dempsey as unexpected feelings turn hot sex into messy entanglements.
---
Shelfbuzz Book Club Interview with Marie
Read Marie's interview with Shelfbuzz Book Club where she discusses the Quantum Series and writing Jasper and Ellie's story in Ravenous. 
---
Ravenous is a New York Times and USA Today Bestseller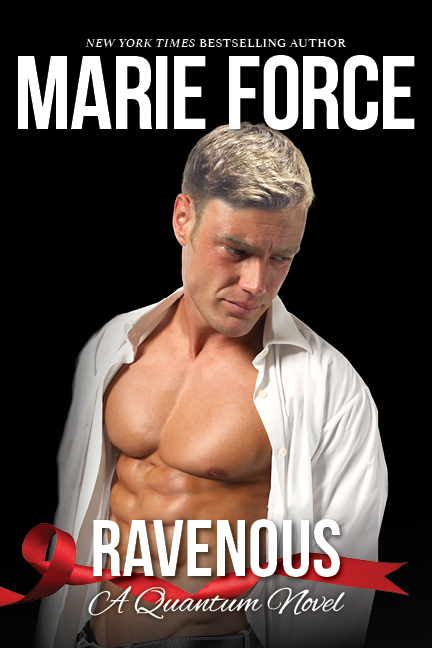 Ravenous, a standalone Quantum Series novel, released on Aug. 23 and told the story of Jasper and Ellie. Ellie wants a baby, Jasper wants her and when Jasper and Ellie get together to work on her "project," the sparks fly. Book 5 in the Quantum Series is  now a bestseller hitting the New York Times ebook list at no. 12 and the USA Today list at no. 29.
---
Mark Dawson from the Self Publishing Formula Features Marie on March Podcast
In the March podcast, Mark Dawson, bestselling author and marketing guru, interviews Marie about her publishing operation with a mix of both self publishing and traditional publishing deals. They discuss her marketing tips as well as Marie's advice to authors setting out to build a platform for better sales. They also discuss her unique approach to reader relationships which involve annual gatherings in her native Rhode Island. Click here to access the podcast or read the full transcript. 
Marie's Interview with the Alliance of Independent Authors (ALLi)
Check out Marie's interview with ALLi where she talks about her writing career, advice for other authors, her creative process and more. Marie discusses her success saying, "I've also done really well in traditional publishing, but nothing can compare to the impact that self-publishing has had on my career—and my life. To bring it further into perspective, my business recently hit the eight-figure revenue mark. 80 percent of that is from 30 self-published titles whereas 20 percent is from 20 traditionally published books." Click here for more.
Fatal Series New Covers are Here!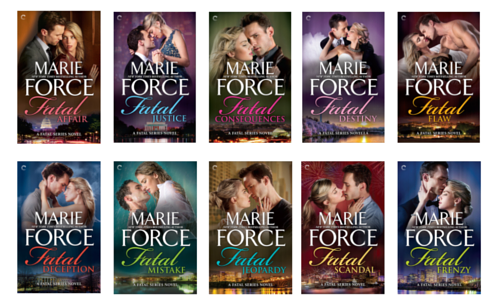 Celebration After Dark Hits the Bestseller Lists
It didn't take long for Celebration After Dark to hit the bestsellers' lists. The story of Big Mac and Linda's meeting and courtship, as well as a look at their 40th wedding annivesary party and an update on their children and grandchildren, is no. 14 on the New York Times ebook list, no. 45 on USA Today and no. 1 on the IndieReader bestseller list.
Season for Love, Book 6 in the Gansett Island Series, is Bestseller in Germany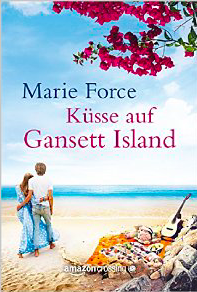 The German translation of Season for Love, Book 6 in the Gansett Island series, has hit #10 on the Bild–Bestseller list powered by Amazon. Bild.de is the largest online news portal in Germany, where the book is titled Küsse auf Gansett Island.
While Marie's books are no strangers to bestseller lists—she had ten USA Today bestsellers and nine New York Times bestsellers in 2015 alone—this is the first time Marie has been on a bestseller list outside the USA. Several Gansett Island books are translated into German, Spanish, Turkish, and Japanese. See this page for a complete list of titles. 
It's Only Love on New York Times and USA Today Bestseller Lists
It's Only Love, book 5 of the Green Mountain Series, is a bestseller—no. 9 on the ebook list and no. 15 on the combined print and ebook list for the New York Times and no. 34 on the USA Today list. It's Only Love is the story of Ella Abbott and Gavin Guthrie, whose brother—and Ella's brother-in-law— died in Iraq. Gavin was finally getting his emotions under control when Caleb's beloved dog died and his widow remarried, causing him to lose control. Just because Gavin doesn't want to drag Ella into this downward spiral doesn't mean he doesn't want her.
Ain't She Sweet, book 6 of the Green Mountain Series, will be released in April.
You'll Be Mine is a Bestseller!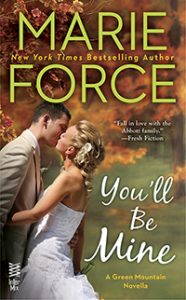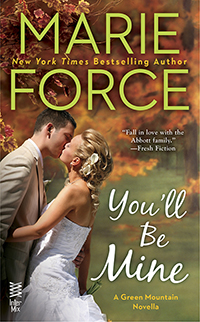 Will and Cam's wedding novella, You'll Be Mine, book 4.5 in the Green Mountain Series, is a bestseller hitting the New York Times ebook list at no. 13 and the USA Today list at no. 33. This novella was previously released in print in the anthologyAsk Me Why and released in ebook on Oct. 20. You'll Be Mine features the wedding of the characters from book 1 in the series, All You Need Is Love. 
Marie's Q&A with Kobo Writing Life Podcast
Hear Marie discuss her writing life, including her most memorable fan interaction, the low-down on some of her favorite fictional characters and how she balances traditional and self-publishing worlds. Watch the video (and many others) with Mark Lefebvre, Director of Kobo Writing Life, who chatted with Marie about all sorts of topics during her recent trip to Toronto.
Fatal Frenzy is a Bestseller!
Fatal Frenzy, Book 9 of the Fatal Series, is a New York Times and USA Today bestseller! It's no. 9 on the New York Times ebook list and no. 14 on the combined ebook/print list. It's also no. 17 on the USA Today list. As Fatal Frenzy begins, Samantha Holland is on medical leave and wondering if she'll return to police force or take on her new role as second lady once her husband Nick Cappuano is sworn in as Vice President. A series of knife attacks in the midst of inauguration madness has the city on edge, and when the case strikes shockingly close to home, Sam returns to to work to help hunt down a heartless killer.
Marie has recently signed on for four more books in this bestselling series. Look for more in the summer of 2016. 
Summer 2015: Four More Books Coming in the Fatal Series
Picture this: my longtime agent and I are standing in Times Square in the middle of the Romance Writers of America's annual week of mayhem, aka the annual conference when 2000 women come together to celebrate romance and to network and learn and recharge our creative batteries. We've been in negotiations with the wonderful people at Harlequin for a new contract for the Fatal Series that would take the series to book 13(!!) over the next couple of years. My agent, Kevan Lyon, who stuck with me when NO ONE wanted me, looks at me and says, "We have a deal." And the deal we have is the biggest one of my career—and hers. Later that night, I got to dance at the Harlequin party at the Waldorf Astoria. Pinch me please!
Here's the official announcement in Publishers Marketplace today:
NYT and USA Today bestselling author Marie Force's next four books in her 'Fatal romantic suspense series' moving to simultaneous print and digital release, to Dianne Moggy at HQN, in a major deal, in a seven-figure deal, for publication in Summer 2016, by Kevan Lyon at Marsal Lyon Literary Agency (World).
It's been such a thrill to work with the amazing team at Harlequin for the last five years, and I can't wait to see what's next for all of us as Sam and Nick and the Fatal Series continues! I have to give a special shout out to my agent Kevan, who has stayed with me through thick and a lot of years of thin, never wavering in her belief that it was just a matter of WHEN not IF something like this would happen. Well, she was right as usual, and it's been a privilege to work with her and to learn from her and to benefit from her calm, cool approach to business and life. She's the yin to my yang and I couldn't appreciate her more. The enclosed photo shows Kevan and I enjoying some champagne after we got the deal news.
It's been a big year for the Fatal series with Fatal Scandal hitting no. 7 on the New York Times list, the release of the first seven books in print, the milestone of 1 million sales of the series in June and now this wonderful new deal for four more books! And just think, we still have Fatal Frenzy to look forward to on September 15! I want to say an extra special thanks to all the readers who have supported this series and made this thrilling moment possible for me! Without you, none of this would be possible. Love you all!
xoxo
Marie
Excerpt of One Night With You, the Fatal Series Prequel Novella, on the USA Today HEA Blog
Readers have been feeling the heat for five years now, when Fatal Affair was released and unleashed the unstoppable chemistry between Sam Holland and Nick Cappuano, who were reunited after a six-year hiatus neither of them had wanted. The release of One Night With You tells the story of their one-night stand that started it all and has kept Washington D.C. entranced by their stories since they reconnected. Fans of the Fatal Series will see why the pair never stopped thinking of each other in their absence from one another. They'll also get a glimpse of what Sam's dad, Skip Holland, was like before a shot rendered him a quadriplegic.
See the USA Today Happily Ever After blog that tells about One Night With You, a 14,000-word prequel novella. Read an excerpt ofOne Night With You on Marie's web site.
Victorious Completes the Quantum Trilogy's Hat Trick on the New York Times Bestseller List
Victorious, the last book Quatum Trilogy released in April, is number 14 on theNew York Times bestseller list and 32 on USA Today, therefore making all Quantum books bestsellers.
Valorous, the second book in the trilogy, was number 14 on the New York Times list and no. 20 on the combined ebook/print. It was number 39 on the USA Today list.
Virtuous, the first book in the trilogy was no. 14 on the New York Times ebook list, no. 19 on the combined ebook and print list and no. 34 on the USA Today list.
The three Quantum books released for three weeks in a row in April so readers wouldn't have to wait too long for the next book, a common (and nice-to-have) lament from readers of Marie's other books, such as the Gansett Island and Fatal Series. The Quantum Trilogy is written under M.S. Force, Marie's initials rather than first name, to let readers know it's sexier than other books she's written. In addition to being on the bestsellers' lists, the three books in the Quantum trilogy have racked up nearly 600 five-star reviews on Amazon Kindle.
Marie will be working on book 4, featuring Quantum favorites Hayden and Addie, later this year. She couldn't be more excited to continue writing in this new world set among some of Hollywood's most elite players and looks forward to turning the trilogy into a series, allowing her to more fully develop the story lines of some of readers' favorite characters.